We know what's worth knowing about lighting for agriculture vehicles and machinery
ERMAX is a leading lighting partner. But we didn't get there from one day to the next. We worked with lighting for over 70 years. Over the years, we've focused on farm machinery. We've taken a close look at the law and the exacting demands the working environment often makes of lighting.
Individual needs deserve individual solutions
Let's be honest: We'll never tell you what lighting you should have until we know what you need. Which machines? What working environment will they be used in? Which other systems will our solutions be connected to? Only when we know all the answers will it make sense to design a customised solution.
Lighting able to match your agriculture vehicles and machinery
Our lighting setup is unique and the range extensive. We have two different ranges for agriculture vehicles and machinery: Premium and Economy. Each range contains a number of modular components that can be put together into a complete system. Let's design the lighting solution that meets your needs.
What can you expect of us as your lighting partner?
Lighting that meets statutory requirements and the tough conditions of farming
Our lighting systems are designed with moulded plug connections and impact-resistant lens of polycarbonate to be able to withstand the tough conditions of farming. Our plug connections are also ADR-approved, tested and complying with IP69K protection. That's why we can confidently guarantee high quality and long service life.
Save time on installation - all components in one box
We've made it easy for you. All solution components are gathered in a single box per vehicle, meaning everything you need to install a system on a vehicle is at hand. That means you save many hours of work.
We manufacturer ourselves to ensure qualityn
Our set-up is unique. We have licensed production with our own tooling at a few carefully-selected manufacturing partners, plus semi-assembly to a limited extent on our own premises in Denmark. We believe in always being able to guarantee the quality of our products.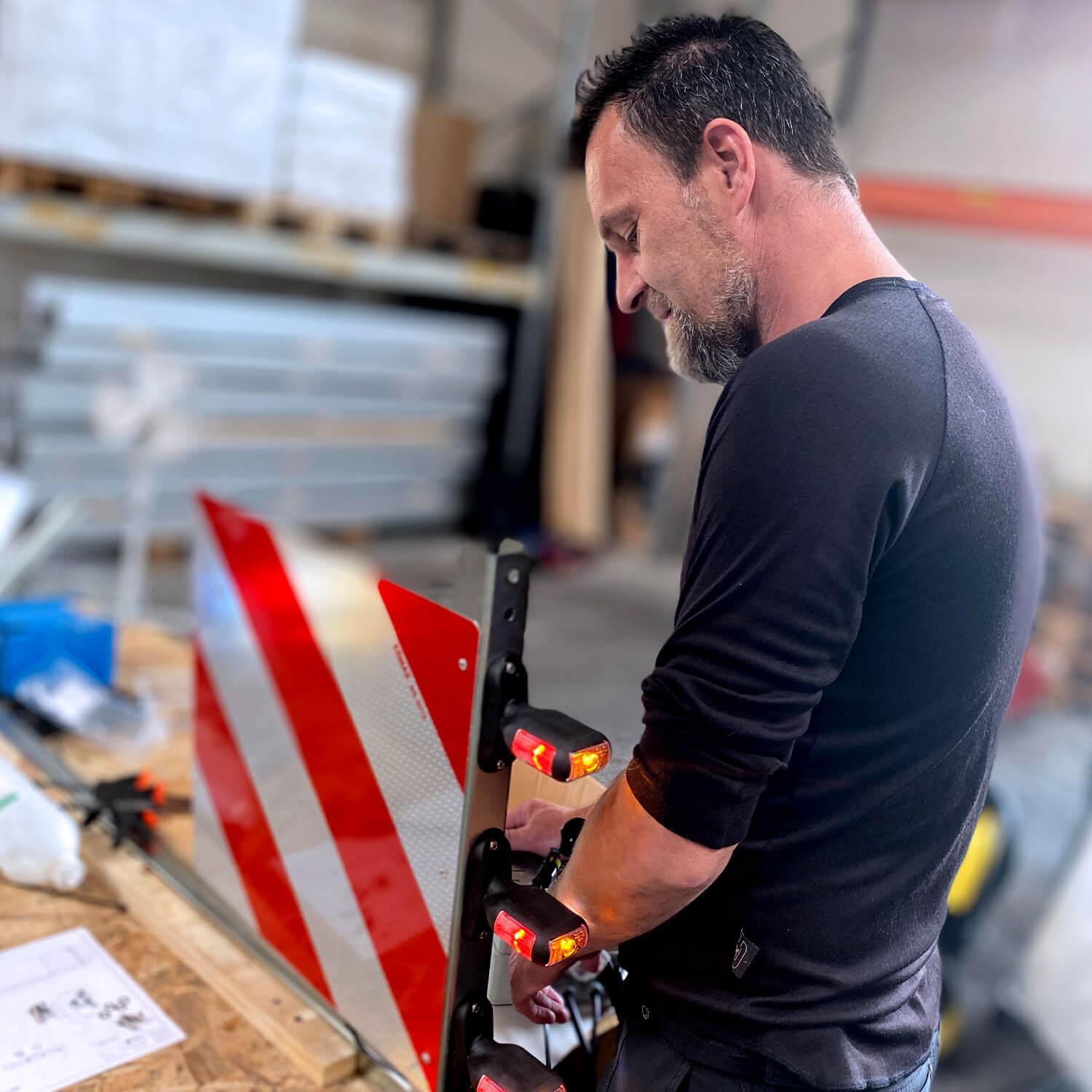 Part of the BPW Group
We are proud of being part of the BPW Group, the leading global supplier of intelligent transport solutions for the transport and logistics industry. That gives us access to innovative technologies, industry specialists and a worldwide network of dealers and distributors.
Towards greener lighting
As a responsible lighting manufacturer, we're working to cut our own CO2 emissions. We always seek to make sustainable choices. We use energy-efficient LED technology in more and more of our solutions, along with lens made of polycarbonate. We are also focusing on working with sustainable packaging suppliers. The journey will be a long one, but we're taking small green steps every day..
Let's talk about which lighting solution is the right one for you